Tread Alert Tactile Surface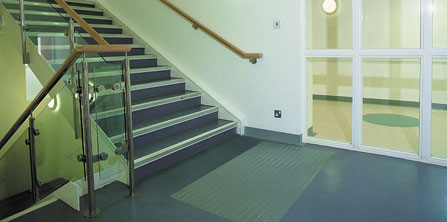 IMPORTANT INFORMATION - SEPTEMBER 2017 - Please note that this product is being discontinued and will only be available while stocks last. Contact the Gradus Sales Order Department for stock information.
Tread Alert is a rubber tile with raised ribs that acts as a tactile warning surface for the visually impaired to recognise a change in level. Tread Alert has been designed to meet the criteria for tactile surfaces as stipulated in the DTLR publication 'Guidance on the use of tactile paving surfaces'.
When used correctly Tread Alert helps to ensure the provision of an inclusive environment as recommended in BS8300:2009+A1:2010 and the Joint Committee on Mobility of Blind and Partially Sighted People.
Tread Alert should be used at the approach (top and bottom) to a flight of internal stairs and installed according to the 'Guidance on the use of tactile paving surfaces'.
Request a call back > click here

Download the Stair Edgings & Floor Trims brochure click here.