Stair Edgings & Trims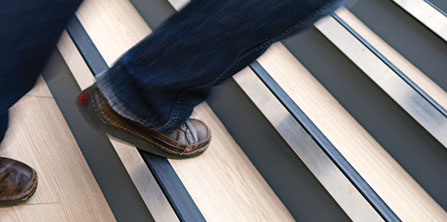 Providing the most extensive range in the UK, Gradus stair edgings (stair nosings) can help to reduce accidents on stairs as well as helping to provide an 'inclusive' environment giving access to all building users.
Request a call back > click here

Download the Stair Edgings & Floor Trims brochure click here.
Stair edgings are used to define the edges of steps in line with guidelines in Approved Document M (ADM) of The Building Regulations 2010 and BS 8300-2:2018. They also protect the edges of floorcoverings from becoming worn or damaged, prolong the life of the floorcoverings and prevent trip hazards from occuring.
Gradus stair edgings are offered in a choice of materials and four profile designs to accommodate most step shapes. A choice of gauges is offered to suit most floorcoverings, whilst single, double or multiple channel options are available dependent on traffic levels and conditions.
Not sure which Stair Edging to specify or install? Unsure on the gauge required or insert type? Need help with colour selection? Screw down or Gradus Grip? We have a comprehensive but easy to understand guide, here. Alternatively, book a RIBA approved CPD, here.
All our stair edgings are listed below, however, if you would like some help narrowing down your requirements then try our advanced search - click here for details.
Looking to buy, today? Click here to find your nearest stockist!