Stairtile Slip-Resistant Flooring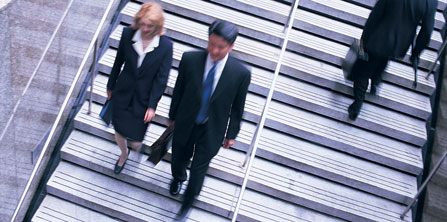 Stairtile is a rubber composite material designed to provide a hard-wearing, slip-resistant finish for stairs and floors. It can be installed in a wide range of applications such as shopping centres, car parks and other high usage circulation areas. It can be used as a complete stair covering or as an insert set into terrazzo, wood and concrete. Stairtile is suitable for use in both internal and external applications and is available in a choice of 4 colours.
When used on step edges, in order to ensure that the guidance in Building Regulations Part M is followed, Gradus recommends a minimum width (front to back) of 50mm to ensure a sufficient degree of colour contrast is achieved. Stairtile must be set as close to the leading edge of the step as possible. When Stairtile discs are used to define a step edge, they should have a diameter of 50mm and be set as close together as possible.